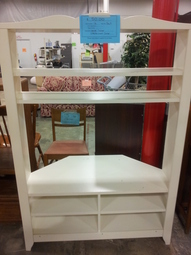 We just set up a brand new Pinterest page! So far, one re-pin but we'll be on there regularly starting soon. We'll be using our blog to post cool items that can be re-purposed, fixed up, or kind of cool. We're "ClothesLessTrav" on there if you'd like to find us.
We'll be posting the shelves on the left on there shortly (second pin!). It's made to hold one of the older, bulkier TVs but that back piece can be cut off to make a "regular" set of shelves. It's wide enough to put a 30+ inch TV in the large space. Wouldn't it be nice with a pop of color on the front edges?
We're thinking about holding some classes or workshops at CLT to learn how to do some of the neat things that are shared on Pinterest, or maybe just some of the ways to repair items, etc. What do you think? Interested?