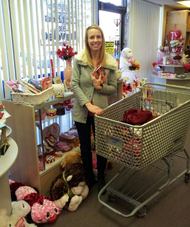 We caught up with Emily, one of our regular shoppers, in the Valentine's section. She was looking for cards and decor for her children to pass out at school.
Although she was looking for Valentine's items she had to look around and found party supplies for her son's pirate third birthday! She found brand new pirate balloons and maps. She told us she really likes our new party section because merchandise is easily displayed.
Like many of you, her
favorite
thing about CLT is the prices! She said her favorite find was a vintage toy for one of her three children called "Turn and Learn".