We're Back

(and we're bigger, too)!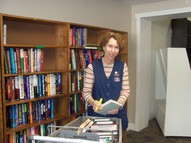 Most of you are probably aware that we've doubled in size this year. Our "official" Grand Expansion will be held Saturday, March 17th but the space is already open and being utilized.
While we were closed for our semi-annual changeover we made a lot of changes we think you're going to love.
We have expanded many of your favorite sections: Sports, Crafts, and others PLUS we now have a superb new Book Nook! The Book Nook is well-lit making it easier for you to browse and make your selections. Our already excellent selection of reading materials is going to be better. We also have videos, DVDs, puzzles, computer games and other related items.
We'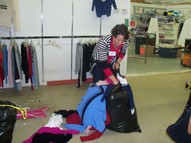 ve moved a few sections, too. The Men's and Boy's sections moved and they're larger! We have an easy-to-view health and medical supply section. Have you visited our gorgeous jewelry area? It's up near the cash register and is chocked full of beautiful earrings, necklaces, bracelets and shiny things.
Stop by and check out all the new sections...AND the new merchandise!
---
Spring, Easter & St. Pats...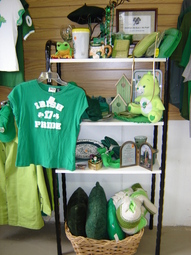 We just completed our Spring changeover and you know that means we have a lot of new items for you to look at and buy.

We've also set up our St. Patrick's Day and Easter sections. We have an outstanding selection of gifts, baskets, toys, clothing, cups, plaques, Easter basket stuffers and more.

Don't forget to put our Grand Expansion celebration on your calendar. It will be Saturday, March 17th, St. Patrick's Day! We will have food, fun, sales and lots to do as we celebrate our growing shop.
---
Semi-Annual Clearance Sale a HUGE Success
THANK YOU

for all of your ongoing support! This years Semi-Annual Clearance Sale was a great success. Without you we couldn't give so much to all the wonderful charities in the surrounding area.
After the sale we closed for a few days so we could give the store a good spit-shine and pack up all the old Fall and Winter items.
---
Thank You Volunteers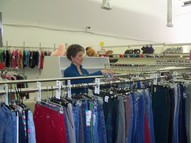 Our volunteers are the best in the world! They are so generous in spirit and in the giving of their time and talents.
During our Spring and Fall changeover times we especially want to thank our fantastic volunteers. They scrubbed, boxed, loaded, checked out items to ensure they were top quality, shifted sections and did SO much.

If you would like to volunteer, please let us know. You can give as little as 3 hours a month and still be a big help. Send an email to volunteer@clotheslesstraveled.org.