Join us for our Grand Expansion celebration!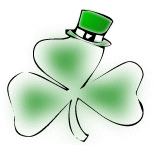 We're celebrating the expansion of the store all day Saturday, March 17th (10 a.m. - 5 p.m.)! We hope you'll join us for the fun.
The first 200 customers making a purchase will receive one of our cool blue Clothes Less Traveled tote bags.
Plus, find a lucky shamrock in the store and you'll save at the register, too. If you don't want to go hunting for shamrock coupons, grab last week's Citizen newspaper and find our ad with the $5 off coupon! The coupon is only good on Saturday.
We're planning to have a great time all day St. Patrick's Day to officially kick-off our expanded sections and the new space. Just think --- we now have 20,000 sq. ft. of shopping space to fill. Can you tell we're excited?

Spring is here...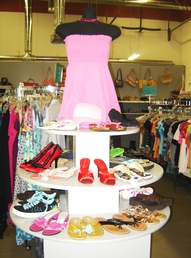 Well, Spring is here at the Clothes Less Traveled even is it doesn't officially start until March 20th! The weather certainly seems to say Spring, doesn't it?
We have a store full of wonderful Spring clothing and items!
We have expanded our clothing departments, along with many other sections. You'll not only find more clothing but more shoes, purses and other accessories, too.
Everywhere you look you'll find something new to catch your attention.
Since we'll be celebrating the Grand Expansion on Saturday, and we just had our huge 50% off the entire store sale we will NOT have a sale this Wednesday. However, there's so much to see and our prices are so great, you won't miss it, will you? Come on Saturday and we'll make it up to you!
Look at all those beautiful shoes in the photo! We have an excellent selection of shoes for any age. See the purses in the background? Wait until you see all the purses...

New Book Nook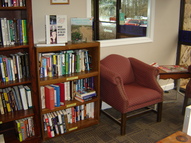 We're thrilled with our new Book Nook! You'll think you just walked into a top notch book store. You can even stop and read for a few minutes if the mood strikes.

Our books are well organized. They are arranged by type (fiction, non-fiction, crafts, health, etc.) and most are alphabetical by author to make it easier for you to find the perfect book for your reading pleasure.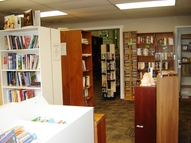 The Book Nook is filled with books for all ages from not-yet-reading to where-are-my-reading-glasses. Plus, there are CDs, DVDs, videos, computer games and other related items in the brightly lit area.

You'll be amazed at the selection of books and the size of the new Book Nook. It's bright, cheerful and comfortable. Come check it out soon.

(If you need a comfy chair or reading lamp, we have those, too!)


Thank you to the Joseph Sams School
Thanks to the Joseph Sams School, we just received a donation of 783 new and very nicely (barely) used books! Zack Stutts, an Instructional Support Teacher at the Sams School, spearheaded the project. The school started a new initiative under the guidance, and through the inspiration of, Marie Sams called "Operation Pay It Forward". They are doing great things in the community!

You'll find the books in our new Book Nook! They're going fast so zip in soon.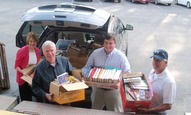 In the photo, L - R:

Time to pull out the capri pants and shorts!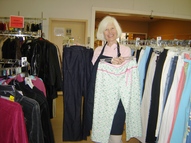 When we say we expanded, we mean we really expanded! We have sooooo many shorts and capri pants we can't wait to hear you oooohh and aaaahhh over them!
You know it's past time to fill up your closet with new Spring clothing. We're fairly sure that we'll have what you're looking for when it comes to sizes, colors, material, brand... if we don't, come back the following shopping day and it'll probably be there! We also have some wonderful Spring and Summer dresses, too. And if you're looking for the perfect pair of earrings or a necklace to go with your new outfit, wander over to our jewelry section.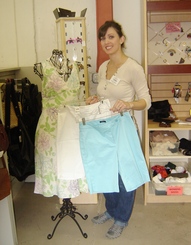 A note on donating
Doing your Spring cleaning? Packing up those winter clothes (that really didn't get much use this year, did they?) Donate all your nicely used clothing and household items when you come to shop for you new Spring wardrobe! We accept donations from 10 a.m. - 3 p.m. Monday through Saturday.